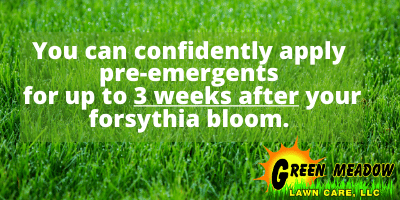 When is the best time to put down crabgrass control on my lawn?
In my 30 years of lawn service industry experience, a top concern for customers has been the timing of your 1st service.
Homeowners have

been taught

to apply pre-emergents when the Forsythias bloom in spring.

This is

just

not true anymore.
With research and development, pre-emergents and post emergents for crabgrass control have advanced. Below, we'll go over the recommended timing for 3 different crabgrass control products.