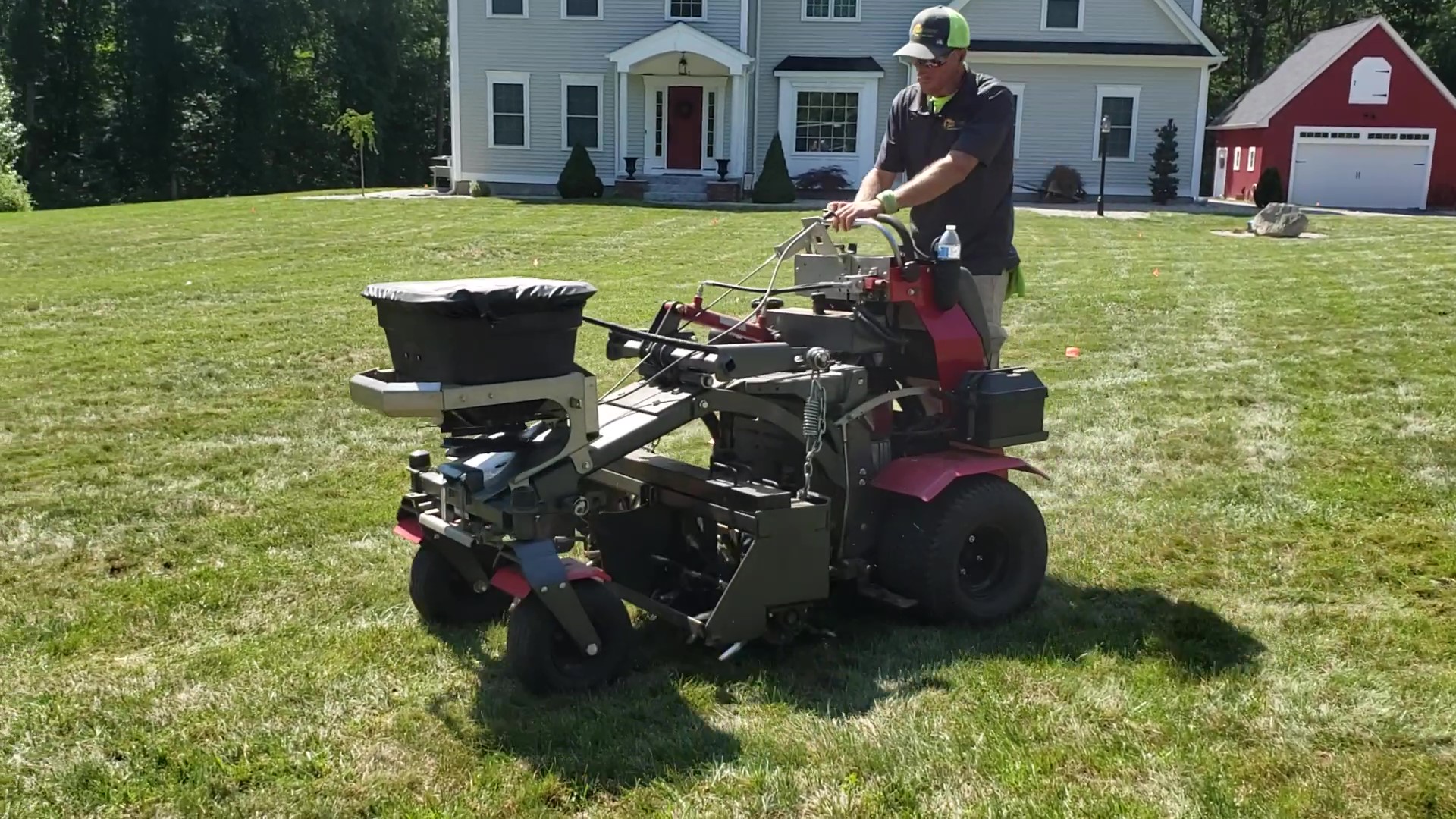 Triple Core Aeration and Seed – The most effective way to build up your thin lawn is to Aerate and Seed. It not only opens up thousands of holes in your lawn for new grass to grow out of, it also loosens the soil to allow you existing grass to create new grass plants through a process called tillering. While single and even double core aeration will give you good results, The Triple Aeration is the ultimate strategy for fast results and a great lawn.
Machine Slice Seeding – All Slice Seeders are not created equal! Most of the rental machines are basically dethatchers with seed hoppers on them. They truly effective machines are mostly sold and used commercially. I have found that slice seeding a lawn that has been damaged in summer can really tear up the lawn. This is not necessarily a bad thing if you rake up excess debris after the seed is cut in.
Hydroseeding – This process is often thought of as an effective way to overseed an existing thin lawn. The problem is if the soil is not loose, it is very hard for the Hydroseed to incorporate and stabilize and therefore is less effective. It is however and excellent way to stabilize newly fine-grade topsoil and provides a very good result for those new lawn installations.
Garden Weasel and Seed – This is the perfect way to patch-up those little bare spots and thin areas alone the edges in your lawn. A great lawn always has a few spots in the lawn that need a little touch-up seeding in the fall. Simply throw down the seed in the bare/ thin spots and work it in with the garden weasel.
Broadcast Seeding – This is a homeowner's favorite and probably the lease effective way to grow new grass in an existing lawn that has bare and thin areas. The flaw in this method is that you need loose soil to cradle the soil and hold moisture to promote good germination. Simple spreading seed on bare spots usually won't do the trick even using some of these new "super" seeds that you see advertised on TV.
Bottom Line: You need good seed to soil contact and loose soil to achieve good germination and root development. Triple Core Aeration and Seed with Starter Fertilizer is not only the most effective way to overseed and existing lawn that I have seen in my 29 years as a Lawn Expert, it's also the most cost effective.