Have a moss problem in your yard? Our Lime & Aeration Services can help.
Moss can be problematic to your turf because it will compete against grass for growing room.
The best way to get rid of moss is to eliminate the soil environments that it thrives in.
We will go over why you might have moss and how to get rid of it. Whether it's a temporary problem, a seasonal turf issue or something that is an issue year in and year out, we will help you get to the bottom of your moss problem.

To Sum It Up:
To reduce the opportunity for moss to grow in your yard, reducing wetness, increasing soil pH, and minimizing shade are very critical. Services such as Core Aeration and Lime Applications will go a long way to help prevent moss from growing.
---
What is Moss?
Mosses belong to the bryophyta division - a class of plants which don't yield flowers. There are more than 12,000 species of mosses and they usually thrive in shady, damp and acidic soil solutions.
---
Related Resource written by our owner, Nate:
---
What are the best ways to get rid of moss?
Reducing shaded areas.

Correcting the pH of your lawn with Lime.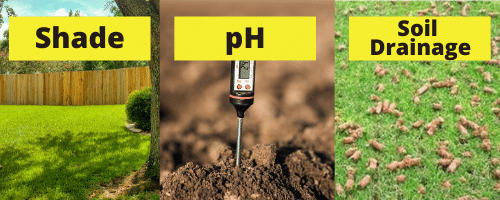 ---
Shade:
Eliminate shady areas and open up your lawn to more sunlight to help reduce moss. Prune or trim overhanging tree branches where needed.

Shaded areas tend to have a low soil pH (acidic).

Grow a shade tolerant grass blend - moss is opportunistic and will grow in bare areas of your lawn.
---
Moss and Soil pH:
Moss thrives in acidic (low pH) soil where grass might not necessarily thrive. Apply Lime Applications to your lawn to raise soil pH.
---
Improve Drainage with Core Aeration:
Standing water creates a perfectly moist home for moss.

Maximize air circulation in your lawn with Core Aeration. This will drain the thatch layer which collects moisture.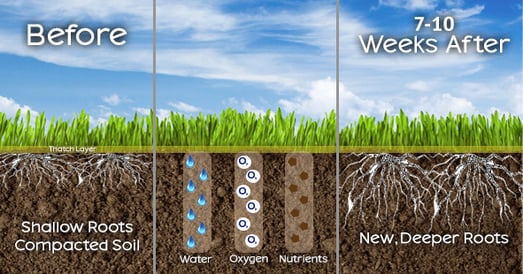 Now that you know the main three causes of moss, you are ready to have a beautiful green lawn without having to worry about moss taking over areas of your yard!
---
If this article was useful to you, read some others similar to it:
Since 2007, Green Meadow Lawn Care has provided homeowners throughout the greater Tolland, Connecticut area with premium fertilization programs, tick control, mosquito management, seeding & aeration and tree & shrub care.
Visit our Learning Center to find out more about how our services can help you or visit our Youtube Channel to view more in our Learning Center Series.
To speak to our Customer Service Manager, please call Dave (view Dave's video bio here) with any questions. Dave has been in the industry for 30 years and is always happy to help with his expert advice.
860-870-5700