When is the best time to put down crabgrass control on my lawn?
In my 30 years of lawn service industry experience, a top concern for customers has been the timing of your 1st service.
Homeowners have

been taught

to apply pre-emergents when the Forsythias bloom in spring.

This is

just

not true anymore.
With research and development, pre-emergents and post emergents for crabgrass control have advanced. Below, we'll go over the recommended timing for 3 different crabgrass control products.
For Starters: What is a Crabgrass Pre-emergent?
Pre-emergents don't prevent weed seedlings from germinating, they prevent the germinating weed seedlings from becoming established. They do this by inhibiting a particular enzyme. Pre-emergents are engineered to not affect already established plants.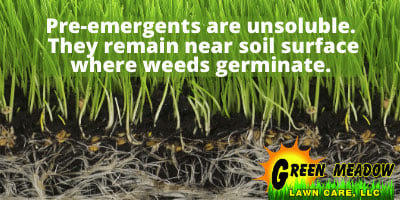 ---
Top 3 Crabgrass Pre-Emergent Options:
Dimension

Pendimethalin (Pre-M)

Barricade (Prodiamine)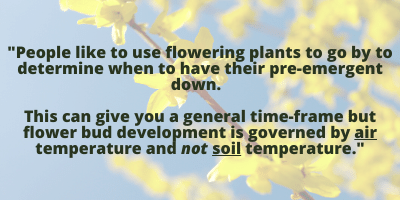 ---
Dimension
Dimension works as both a pre-emergent and post-emergent.

This product gives you about 2-3 week's time after forsythias have bloomed to apply to your yard

.
Offers a wide time window for application.

Effective in preventing a variety of weeds from emerging/establishing.

Will control or suppress more than 45 annual grass and broadleaf weeds including chickweed and crabgrass.
You can

confidently

use this product from early to mid season without a worry.
---
Pendimethalin


Also known as Pre-M, Pendimethalin has been a regulated product since 1972. It works well as both a pre-emergent and a post-emergent by interfering with cell division in young weeds.
Works as both a pre-emergent and post-emergent.
Stops weeds by interfering with cell division in roots of young weeds.
---
Barricade (Prodiamine)
Prodiamine is a relatively newer product compared to Pendimethalin. It helps control and prevent summer annual weeds. It is a pre-emergent herbicide that has low-rate, season-long control of up to 30 grassy and broadleaf weeds.
Controls up to 30 grassy and broadleaf weeds.

Lasts up to 6 months

Binds high in soil to ensure turf roots below the barrier aren't affected.
Now that you know the 3 main pre-emergents for crabgrass, you are ready to get started on your lawn! These products offer pre and early post-emergent qualities, they do not have to be applied as soon as forsythias bloom.
---
Bottom line: If you are applying crabgrass treatment yourself, it is a good idea to make sure that whatever product you are using is down early.
If you are using a lawn care company, trust that they have knowledge and experience in how to not only preventatively control crabgrass but also to control it post-emergent.
Mother Nature throws many curveballs and it is not always certain that you will receive 100% preventive control. Having a company that you trust to do their job is critical in keeping crabgrass out.
More articles about weeds:
Since 2007, Green Meadow Lawn Care has provided homeowners throughout the greater Tolland, Connecticut area with premium fertilization programs, tick control, mosquito management, seeding & aeration and tree & shrub care.
Visit our Learning Center to find out more about how our services can help you or visit our Youtube Channel to view more in our Learning Center Series.
To speak to our Customer Service Manager, please call Dave (view Dave's video bio here) with any questions. Dave has been in the industry for 30 years and is always happy to help with his expert advice.
860-870-5700