Raking/Dethatching:
The 1st step in preparing your lawn for spring is to clean up any debris that is lying around the yard (sticks, leaves, plow damage, thatch, etc).
Thatch is a layer of both living and dead grass shoots/roots/ste
ms that builds up between your soil and grass blades that can be eliminated by raking or dethatching your lawn (see below).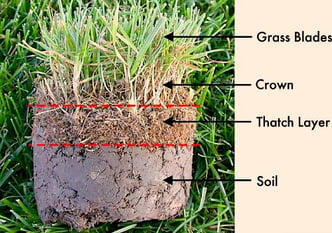 Rake as many times as needed to achieve a thatch layer of ½ inch or less or hire a professional landscaping company to do this for you. Anything greater than ½ inches of thatch can be unhealthy for your lawn.
A thick layer will restrict the amount of nutrients and water that your grass roots will be able to absorb.
Raking and dethatching can begin any time after your snow season is complete.
Remove Sand/Salt along Edges of Lawn:
If you live in a region where sand and salt are used as de-icing agents, it is possible that you have run-off of these agents in your lawn.
It is important to remove these because the qualities of these products that break through ice, will also break through your lawn.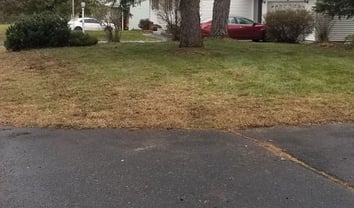 This can be harmful to your grass and in many cases causes these areas to turn yellow or die back.
The best way to remove the sand/salt from the lawn is to:
Use a power broom or blower and blow it into the road.

Sweep it into piles and dispose of it.

Repeat and make sure nothing was missed.
---
Irrigation System (If you have one):
Watering your lawn is essential to keep it green and healthy. Prep

are your irrigation system by:
Opening it up and making sure everything is working properly. Some irrigation heads may have been damaged over winter so check them to see if any are broken or not working to their full potential.

Irrigation spray head pattern: If your system's spray pattern is off, this could result in some areas of grass getting too much water and other areas not getting any. To avoid dead spots or over watering as a result, make sure the sprinkler heads are in working order.
---
Prepare your lawn mower for Spring
Make sure all fluids (gas/oil) are clean and everything is running and spinning properly.

Remove mower blades to ensure that none are bent or broken.

Give the blades a nice clean sharpening. The cleaner the cut, the healthier your grass.

Set mower deck height to 3 in for spring. Leaving your grass too long will provoke leaf blade wetness. This can be a key factor in disease growth.



---
Fertilizer Program:
There are a few options here:
DIY: If you are looking to do it yourself, a spring fertilizer treatment is recommended to reduce the break-out of crabgrass and weeds in the summer. Before you treat your lawn, it's recommended that you perform a soil pH test. We recommend a fertilizer with pre-emergent to feed your grass but also protect from weeds. There will still be some weed around the yard (dandelions, clover, etc) but spot spraying can keep your lawn free of these.

If you need help with fertilizing, call your trusted local lawn care company. They will be happy to help. Most lawn care companies will come to your home, evaluate your lawn, and give you a free estimate.
---
Spot Seeding:
Lawns can take a beating over a New England winter. Spot seeding is a great way to fill in any bare areas, edges of the yard, or any plow damage that occurred.
Do: Make sure to garden weasel the seed into the ground to create seed-to-soil contact.
Don't: Simply throw seed on the ground and expect it to grow. Seed needs to be weaseled into the ground to start the growing process.
---
Bottom Line:
One thing to be careful of, whether you have a fertilizer company or do it yourself, is to make sure no pre-emergent gets on the newly planted areas. This will prevent anything from growing.
If this article was useful to you, read some others similar to it:
---
Since 2007, Green Meadow Lawn Care has provided homeowners throughout the greater Tolland, Connecticut area with premium fertilization programs, tick control, mosquito management, seeding & aeration and tree & shrub care.
Visit our Learning Center to find out more about how our services can help you or visit our Youtube Channel to view more in our Learning Center Series.
To speak to our Customer Service Manager, please call Dave (view Dave's video bio here) with any questions. Dave has been in the industry for 30 years and is always happy to help with his expert advice.
860-870-5700