Which Kind of Grass Seed is Best for My Yard?
The Northeast's changing seasons can be tough on turf.

It's important to have a grass variety that can withstand the challenges of long winters and moderate summers. In the northeast, no one grass can do this alone.
The benefit of having a grass seed blend is that it offers genetic diversity. Where one grass type lacks - another might excel when considering factors such as humidity, seasons or elevation.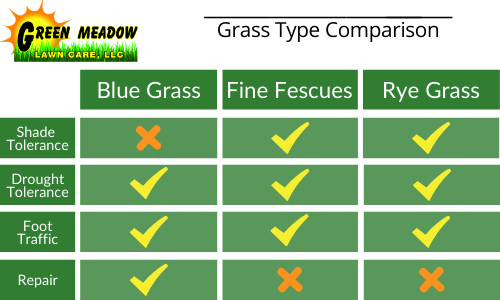 ---
How Should I Overseed My Lawn?
If it's been several years since your last overseeding or if your lawn has been damaged by heat/drought, diseases, traffic and looks weak and thin - you are due!
There are several different approaches you can take:
Triple Core Aeration & Seed

: tiny cores of soil are removed from yard before entire lawn is overseeded.

Machine Slice Seeding:

1 inch slices made in yard are directly filled with new seed.

Hydroseeding:

this method is great for new construction

Garden weasel and seed

: this manual method is great for small, bare patches.

Broadcast seeding

: scattering seed by hand.
Read more about each method here:
---
How to Prepare My Lawn for Overseeding?
Often times, the key to getting a successful yield can lie in the preparation. To prepare your lawn for overseeding be sure to:
Mow your lawn low.

Be aware of your soil's health (pH).

Research the type of grass seed you will be using - be sure it can thrive in your climate.

Be aware of how much water you will be needing.
Read more here:
---
When Is the Best Time of Year to Seed My Lawn?
Fall, followed by winter (dormant) seeding are the two best times of year to seed your lawn. Both will give your lawn the adequate head start it needs to green-up in Spring and suppress spring weed growth.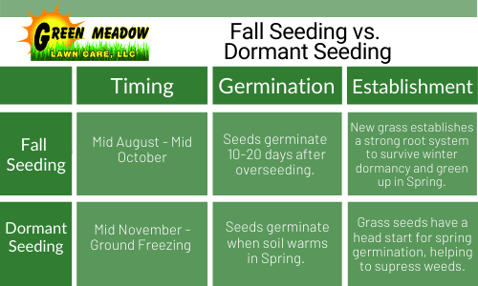 ---
How to Care for a Newly Seeded Lawn?
Did you know that having a healthy lawn can increase the value of your home by up to 20%? Now that you have seeded your lawn, it's time to protect your investment.
Watering: Too much water can cause seeds to wash away or rot and not enough water can cause a seed sprout to die.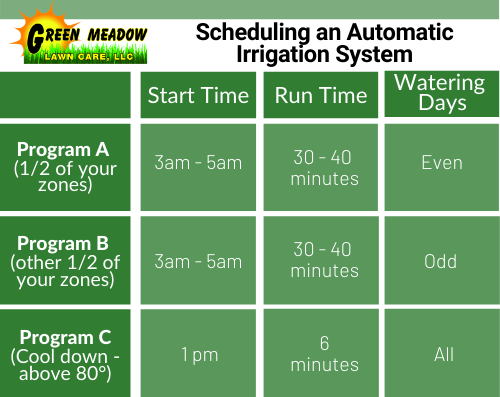 Read more below:
---
Since 2007, Green Meadow Lawn Care has provided homeowners throughout the greater Tolland, Connecticut area with premium fertilization programs, tick control, mosquito management, seeding & aeration and tree & shrub care.
Visit our Learning Center to find out more about how our services can help you or visit our Youtube Channel to view more in our Learning Center Series.
To speak to our Customer Service Manager, please call Dave (view Dave's video bio here) with any questions. Dave has been in the industry for 30 years and is always happy to help with his expert advice.
860-870-5700