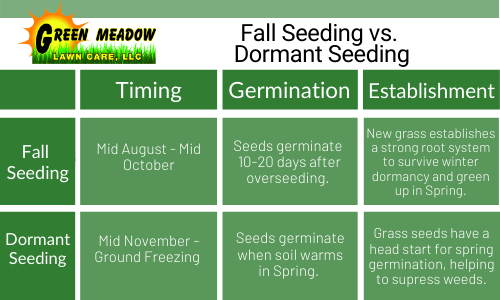 Fall Seeding:
The best way to repair a thin or damaged lawn is to fall seed. Fall seeding works best with aeration to allow for optimal seed to soil contact.
Fall Seeding and Germination
Grass seeds will sprout and enjoy a full season before going dormant for winter. This new grass will have plenty of time to establish a strong root system to survive winter and green up in Spring.
When Should I Fall Seed?
The best time to fall seed is between mid August and mid October. Pros: soil is still warm. Has time to germinate and fully establish before winter.
Fall Seeding and Irrigation
All new seeds need water. One benefit of fall seeding is that autumn tends to be a season with a higher amount of precipitation and moisture than other seasons.
Ways to fall seed:
Remember - any time you are seeding, SEED TO SOIL contact is key.
3x Core Aeration and BlueSeed:

using state of the art equipment, thousands of tiny soil plugs are removed from your lawn to crate room for air, nutrients and water to flow and to allow for the most optimal seed to soil contact for when your lawn is over seeded following aeration.
Slice Seeding: 1 inch deep "slices" are made in lawn and seed is dropped into these gaps.
Garden Weasel and Seed: This manual method is great for small spots that need some patching up.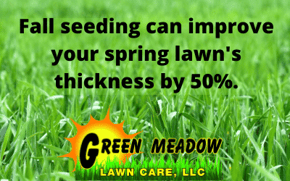 Dormant Seeding:
Dormant seeding is the practice of sowing grass seeds in late fall or early winter when the soil temperature is below 40 degrees. At this temperature, grass seeds will not germinate. Dormant seeding will thicken your lawn in the spring and give your yard a head start with suppressing weeds.
When Should I Dormant Seed?
The time frame for dormant seeding goes from about mid November until when the ground is frozen. This is the time of year when plants naturally go into hibernation. By overseeding this time of year, we are mimicking mother nature's process.
Pro Tip: Dormant Seeding can be a great alternative option for people who may have missed the optimal timing window to Fall Seed.
When Will I See the Results of Dormant Seeding?
The goal of Dormant Seeding is to lay grass seeds and PREVENT them from germinating until spring. Over the winter they will settle into the ground and remain dormant until the air and soil warm up in spring. Grass seeds will get a head start for spring germination, thus allowing them to suppress weeds more effectively.
Related Articles:
---
Since 2007, Green Meadow Lawn Care has provided homeowners throughout the greater Tolland, Connecticut area with premium fertilization programs, tick control, mosquito management, seeding & aeration and tree & shrub care.
Visit our Learning Center to find out more about how our services can help you or visit our Youtube Channel to view more in our Learning Center Series.
To speak to our Customer Service Manager, please call Dave (view Dave's video bio here) with any questions. Dave has been in the industry for 30 years and is always happy to help with his expert advice.
860-870-5700