We are very proud to be able to provide our customers with what we believe is some of the highest quality grass seed in the country.
Atlantic Golf & Turf, where we get our grass seed from, is very proud to be one of only TWO certified A-list Seed variety blenders in the entire COUNTRY. Right here in the Northeast!
What is A-List Grass Seed?
A-List stands for Alliance for Low Input Sustainable Turf. This is a non-profit organization dedicated to researching and identifying the most sustainable grass varieties.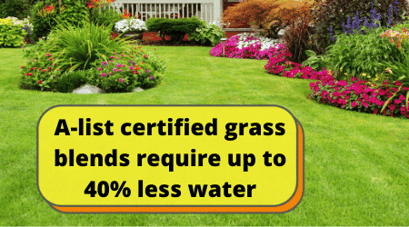 They are committed to providing high quality yet low input grass types that aim to reduce the overall fossil fuel footprint of the lawn care industry.
They test different grass types by removing all inputs and seeing which plants produce the most ideal turf.
The grass during research receives no additional water, fertilizers, or plant protectants.
Benefits of A-List Grass:
Evaluated for drought resistance.

Less maintenance: these blends stand out from the rest because they require an average of 40% less water than grass that is not A-list certified.

Require overall lower input. Less water, fertilizers and protectants needed.

Less mowing: Grasses that require less mowing are more likely to meet A-List guide lines because less mowing leads to an overall smaller carbon footprint.
Why is A-List Grass Seed important to the future of the lawn care industry?
As we continue to see more extreme weather (drought/heat/humidity) it becomes increasingly important to have grass varieties that can better stand up to Mother Nature's stresses.
Additionally, as legislation changes are able to limit the amount of pesticides and water being used on properties, it is so important to have grass types that don't need as much maintenance.
How does it work?
Grasses go through rigorous testing.

The best varieties are weeded out and identified.

A-list Certification process begins - grass is grown out and established at these 8 universities.

All inputs are turned off - grass receives no water, no fertilizer and no plant protectants.

As time goes on, each grass is rated.

Findings are reported back to the group to vote on whether or not a grass deserves the distinction of being A-List.
As of July 2020 there are only 48 grass varieties that are certified:
9 Kentucky Blue Grass

10 Perennial Rye Grass

29 Fescues (Tall and Fine)
Who makes up the A-List non-profit organization?
This organization includes a group of 8 universities and 5 seed purveyors who conduct ongoing studies and produce the A-list certified seed varieties.
Purdue University

University of California - Riverdale

North Carolina State University

Michigan State

Utah State

University of Connecticut

Rutgers University

University of Wisconsin
For more info visit: www.a-listturf.org
Related Articles:
Since 2007, Green Meadow Lawn Care has provided homeowners throughout the greater Tolland, Connecticut area with premium fertilization programs, tick control, mosquito management, 3X core aeration & seed and tree & shrub care.
Visit our Learning Center to find out more about how our services can help you or visit our Youtube Channel to view more in our Learning Center Series.
To speak to our Customer Service Manager, please call Dave (view Dave's video bio here) with any questions. Dave has been in the industry for 30 years and is always happy to help with his expert advice.
860-870-5700 x1