When is the best time of year to seed my lawn?
Fall, followed by winter (dormant) seeding are the two best times of year to seed your lawn. Both will give your lawn the adequate head start it needs to green-up in Spring and suppress weed growth.
Below, we'll go over the times of year that you can over seed your yard from best to worst:
1. Fall Seeding
Fall seeding is hands down your best option when it comes to thickening up your lawn and bringing it back to life. The best time of year to fall seed in the Northeast for cool season grasses is between mid-August and mid-October.
Seeding this time of year gives the new plants 3 wet/cool seasons to develop before the heat and disease pressures of Summer are here.
Grass seeds will germinate within

10-20 days

after seeding and will benefit from having a full season to establish a strong root system before going dormant for winter.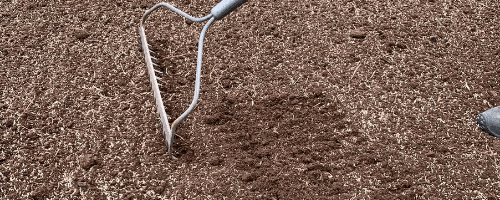 2. Dormant Seeding or Winter Seeding
If you are unable to fall seed, dormant seeding is your next best bet.
Dormant seeding is the practice of sowing grass seeds in late fall or early winter when the soil temperature is

below 40 degrees

. At this temperature, grass seeds will

not

germinate until the following Spring.
You can dormant seed any time between November thru the end of the year. Remember - seed to soil contact is key, so this is weather-pending and will depend on snowfall.

Dormant seeding will allow the seed coat to slowly break down over winter. When soil temperatures warm up in Spring, seeds will germinates at the earliest possible time, giving them a head start against competitive, emerging weeds.
3. Spring Seeding
While it is possible to seed your lawn in the Spring, we do not recommend it. Grass seed that is planted in spring will germinate and have great access to moisture for about 3-4 weeks but it will not have the strong root system needed to stand up to summer's pressures.
Why you shouldn't seed your lawn in Spring:
Lawn is prone to collapsing in summer and requiring a re-seeding in fall.

Grass will grow rapidly on the surface using up significant energy and nutrients in the process. The roots, therefore, don't get what they need to build strength for the upcoming Summer.

Younger lawns are more prone to damaging diseases.
4. Summer Seeding
Summer is the least desirable time of year to seed your lawn as it is very unforgiving. Be prepared to need extra watering and be prepared to deal with disease issues.
Related Articles:
Since 2007, Green Meadow Lawn Care has provided homeowners throughout the greater Tolland, Connecticut area with premium fertilization programs, tick control, mosquito management, seeding & aeration and tree & shrub care.
Visit our Learning Center to find out more about how our services can help you or visit our Youtube Channel to view more in our Learning Center Series.
To speak to our Customer Service Manager, please call Dave (view Dave's video bio here) with any questions. Dave has been in the industry for 30 years and is always happy to help with his expert advice.
860-870-5700