How To Keep Your Grass Green in Hot Weather & Other Summer Lawn Care Tips
Summer can be a very stressful time of year for your lawn with threats of heat and drought. Many of you have worked hard on your lawns in spring and now it's time to maintain the work you have already done.
We'll provide a few pointers to help you keep your lawn at peak health this summer.
Questions Answered:
Related Resource written by our owner, Nate:
Mowing - How Short Can I Cut My Grass?
Summers in the Northeast tend to be very warm with minimal rain. The threat of drought and heat pose many threats to your yard's health. It's important to raise your mower blades and keep your grass longer during this time.
Keeping your grass blades long will shade grass roots, allowing them to

retain

moisture for longer

. This will help prevent soil from drying out and will prevent grass from burning.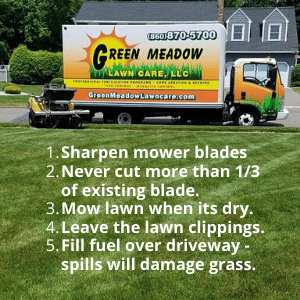 The stronger the root system, the longer it will take for grass blades to dry out.
Raise mower blades to 3.5 - 4 inches.

Remove no more than 1/3 of grass blade.

Leave grass clippings - they will provide your lawn with nutrients.
Pro Tip: If you have an irrigation system and use it faithfully you can get away with mowing your grass a little shorter.
Which Lawn Diseases Should I Keep an Eye Out For?
Summer temperatures bring humidity and warm nights. You'll want to keep an eye out for turf diseases.
If you need help, a professional lawn service company near you can help you identify any threats.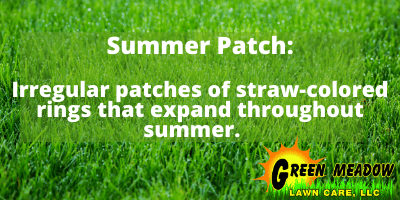 Common summer turf diseases:
Summer Patch.

Pythuim.

Brown patch.
Be sure to incorporate preventative care in your lawn program rather than waiting until it's too late

.
Crabgrass

Spurge

Purslane

Black Medic

Yellow Foxtail

Knotweed
Pro tip: If you hire a professional lawn care service, weed control should be a part of your fertilizer program.
Top 3 Benefits of Mulching Trees and Shrubs:
Trees and shrubs can be a very valuable asset on our properties. Mulch can be your plant's best friend by offering trees insulation, protection and ensuring that they get the water and nutrients they need.
Slow evaporation of moisture in the soil by preventing wind and sunlight from getting to soil (retains moisture).
Prevents weeds from sprouting and overtaking landscape.
Insulates soil so there is less of a dramatic change in soil temperature.
Pro Tip: When mulching, make sure to leave some space around tree trunks to prevent suffocation and allow for air and water circulation.
Pruning Trees and Shrubs:
Not only does pruning trees add curb appeal - it promotes new growth, allows you to control the size of plants if you live in restricted areas, provides plant with more sunlight and encourages flowering, to name a few.
Removes dead and dying branches which promotes room for new growth.
Helps with insect management.
Enhances the beauty of your trees/shrubs.
Pro Tip:

The proper time to prune can vary on each plant's growing habits or condition. Be sure to do your research.
How Do I Avoid Soil Compaction?
More time outside in the beautiful summer months can mean more foot traffic on your lawn. Heavy foot traffic can lead to compacted soil which, in turn, will lower the amount of air, water and nutrients that your lawn is able to absorb.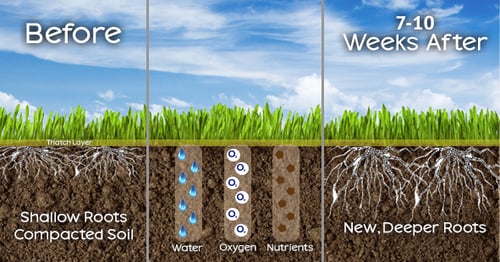 Avoid Soil Compaction By:
Limiting traffic.

Core Aeration: See above. Your Lawn Service Provider will use a core aerator to pull plugs of soil from lawn allowing it to "breath" and creating gaps for the root systems to grow into.
Avoid Drought - When to Use Irrigation:
Irrigating in the early morning (before 8am) gives grass blades time to dry off throughout the day. In summer - water deeply and infrequently.
Pro tip: If summer temps are very high, do a quick cool down watering mid-day to keep blades from burning up.
If this article was useful to you, read some others similar to it:
Bottom Line:
Now that you know what to look for in your lawn to keep it healthy, you are ready to have a lush lawn throughout summer without worrying about it being damaged!
If you are going to tackle a fertilization program on your own make sure to read labels and apply correctly and at proper rates. If you are going to hire someone, hire someone you trust. Referrals from friends, family, or neighbors is a great way to find help that you trust.
Since 2007, Green Meadow Lawn Care has provided homeowners throughout the greater Tolland, Connecticut area with premium fertilization programs, tick control, mosquito management, seeding & aeration and tree & shrub care.
Visit our Learning Center to find out more about how our services can help you or visit our Youtube Channel to view more in our Learning Center Series.
To speak to our Customer Service Manager, please call Dave (view Dave's video bio here) with any questions. Dave has been in the industry for 30 years and is always happy to help with his expert advice.
860-870-5700