Safeguarding your Child's Playscape Area
Have you, your friends, or your family ever been outside on the playscape and gotten hurt or ended up with tick/mosquito bites? If so, you know that sometimes playgrounds can be a fun, but unsafe, area for children.
Questions Answered:
How to protect from pests in play area:
Set up playscape in sunny area - ticks and mosquitos do not like the sun.

Keep play area away from vegetation, wooded areas, tall grass, and shrubs.

Hire a trusted tick/mosquito specialist & schedule a program to spray your yard. Learn more about our Tick Control and Mosquito Management.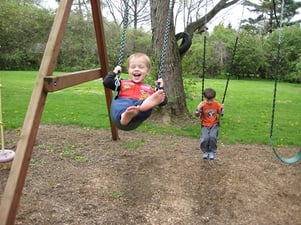 Best ground surface for a play ground?
Your options in order from most to least expensive:
Solid Rubber Surface

- This is very safe for children and results in very little maintenance.

Sand/Small Rocks

- This is much less expensive and provides soft base for falls and trips.

Rubber Mulch

- Less expensive than a solid rubber surface but still provides a soft base.

Artificial Grass

- Requires little maintenance and is less expensive than rubber.

Wood Chips

- This requires more maintenance than the others but is very cost effective.


These options will help reduce the amount of ticks in the area. Ticks like shady areas like leaves and along the woods-line so these options will aid in preventing them from moving into the play area.
Best location for my playscape?
Sun Exposure: A canopy of trees will reduce exposure but BEWARE...!
If it is too close to the woods we are now in tick and mosquito territory.
Visibility: Always keep playscapes in an area where they can be easily supervised.
Away from any streets or roads.
Away from ponds:

Mosquitos LOVE stagnant water.

How much sun exposure is good/bad?
Sun exposure = bad for skin.
According to NAPS one blistering sunburn can double a child's lifetime risk of skin cancer. Wear that sunscreen!
Sun exposure = good for ticks/mosquitos.
Ticks and Mosquitos love shade. A playscape in the sunlight will greatly reduces the risk of tick/mosquito bites.
Installation safety tips:
Install on a flat level surface.

Install the playscape away from woods line.
Now that you know the best way to safeguard a playscape, you are ready to set it up and have a ton of fun without worrying about anyone getting hurt or being bit by ticks/mosquitos!
Bottom Line:
To safeguard your playscape follow the guidelines above. To protect your play area from ticks/mosquitos, call your local lawn service professional to help you out.
If this article was useful to you, read some others similar to it:
Since 2007, Green Meadow Lawn Care has provided homeowners throughout the greater Tolland, Connecticut area with premium fertilization programs, tick control, mosquito management, seeding & aeration and tree & shrub care.
Visit our Learning Center to find out more about how our services can help you or visit our Youtube Channel to view more in our Learning Center Series.
To speak to our Customer Service Manager, please call Dave (view Dave's video bio here) with any questions. Dave has been in the industry for 30 years and is always happy to help with his expert advice.
860-870-5700