Many people are challenged with the decision of whether to fertilize their own lawn or hire a professional to fertilize it for them.
We'll go over the pros and cons of both options and break down the costs for you.
Most people who fertilize their own lawn do it with the goal of saving money. It's important to think about your time investment here as well. After all, you know how the saying goes... time is money.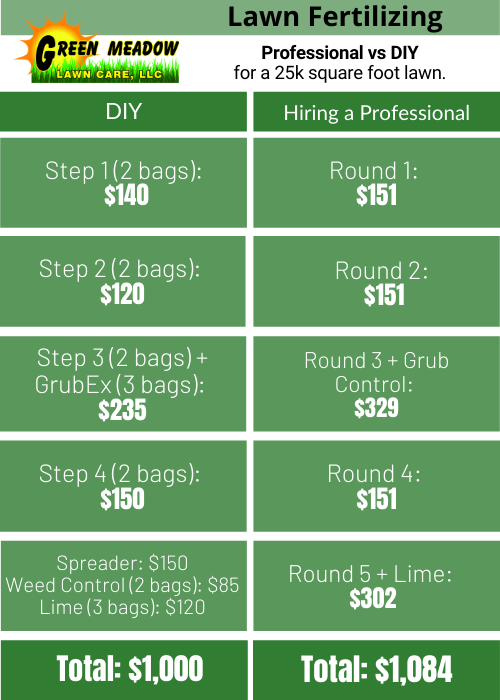 ---
Pros and Cons of Fertilizing Your Own Lawn:
Pros:
Can save you a small amount of money.

You can choose which grade of products you want to use and when/where and how much product to use.

It's a great workout!
Cons:
Everything must be spread evenly and at proper rates or you can damage your lawn (we have seen this happen too many times to count).

Fertilizing can be very time consuming between researching rates of spreading product, then actually applying the product.

There's a higher chance for error when starting to fertilize your own lawn. If you are not happy with your results you might need to tweak your method or repair any mistakes. This could end up costing you more time and money in the long run.
---
Pros and Cons of Hiring a Company To Fertilize My Lawn:
Pros

:
Convenience - it will save you time.

Services will be on a set schedule. You can trust that all products will be put down at the correct rates and time.

You will have access to high quality products that are only available to commercial retailers.

State of the art equipment ensures that products are spread evenly to avoid any burning or over application.

You will have skilled and experienced specialists working on your lawn who do this exact task hundreds, if not thousands, of times in one season.
Cons:
May cost a little bit more than doing it yourself.

Products might be most costly - a lawn care company can get high quality products in bulk.

Some lawn care companies lack training and experience. Always check reviews.
Bottom line: Access to quality product, convenience and experienced professionals often times are only a tiny bit more expensive than doing the job on your own. Unless you enjoy doing it yourself, you can get a much better deal by hiring a professional!
Related Articles:
---
Since 2007, Green Meadow Lawn Care has provided homeowners throughout the greater Tolland, Connecticut area with premium fertilization programs, tick control, mosquito management, seeding & aeration and tree & shrub care.
Visit our Learning Center to find out more about how our services can help you or visit our Youtube Channel to view more in our Learning Center Series.
To speak to our Customer Service Manager, please call Dave (view Dave's video bio here) with any questions. Dave has been in the industry for 30 years and is always happy to help with his expert advice.
860-870-5700