Moles can expand their runways at a rate of about 100 feet per day - for this reason, many people think they have multiple moles when it really just might be one. If you have had a mole in your yard before, you know how destructive their digging can be.
Assuming you have gotten rid of your moles and they are no longer an active threat, now it's time to follow the steps below to fix the damage.
If you have not yet gotten rid of the moles in your lawn, read this article below: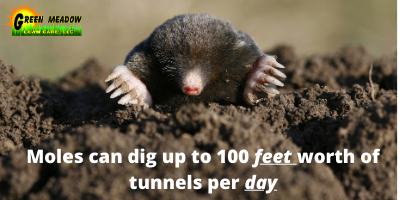 What Is The

Best

Way To Fix Mole Damage?
Remove any excess dirt from mounds with a shovel.

Apply a castor oil mole repellent into identifiable mole hills and tunnels.

Compact all the tunnels either by foot, a roller or driving over tunnels with a mower.

Lightly rake out all of the exposed areas.

Fill in any sunken areas with top soil.

Apply top quality grass seed at proper rates.

Lightly compact the seed into the soil (for best results, we want as much seed to soil contact as possible).

If desired, cover seeded areas with straw (this adds a layer of protection and keeps moisture in the soil).

Keep soil moist until seeds have germinated (1-2 weeks).

Once seed has germinated, water once daily until your first mowing.

If this is something you don't have the time for, look into Aeration and Overseeding services from a Lawn Service near you. If your damage is extensive and covers a large portion of the lawn, this will be a great facelift to improve the health and look of your yard.

To learn more about Triple Aeration & Seed and what exactly it does, watch the video below:
If you are planning to tackle the problem on your own, follow all the steps in order and correctly. If planning on hiring someone for aeration and seeding, hire someone you trust. Remember - referrals from friends and family are a great way to make sure you will be getting quality service.
Related Articles:
Since 2007, Green Meadow Lawn Care has provided homeowners throughout the greater Tolland, Connecticut area with premium fertilization programs, tick control, mosquito management, seeding & aeration and tree & shrub care.
Visit our Learning Center to find out more about how our services can help you or visit our Youtube Channel to view more in our Learning Center Series.
To speak to our Customer Service Manager, please call Dave (view Dave's video bio here) with any questions. Dave has been in the industry for 30 years and is always happy to help with his expert advice.
860-870-5700