Are ticks active in winter? Yes!
When temperatures are above freezing, black legged ticks (deer ticks) are active. These ticks will find shelter in leaf litter to survive winter.
Their activity will decrease when temperatures dip below freezing but they are still out there! As long as they aren't covered in snow, they are looking for hosts.
"There's a really good correlation with our increase in temperatures in the winter months and the increase in survival [for ticks]," explained Kirby Stafford, chief scientist at the Connecticut Agricultural Experiment Station and state entomologist.
How do ticks survive winter?
Latching on to a host (pet or wild animals).

Hiding in leaf litter.

Soft shell ticks survive by building burrows or dens in the ground.

Stay under decaying vegetation.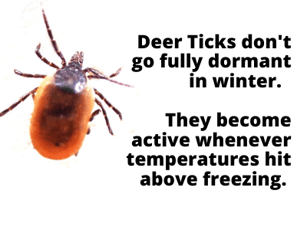 Can I still get a tick bite in winter?
The answer is an astounding YES. Black legged ticks (including Deer Ticks) are active whenever temperatures are above freezing.
Protect your pets. While deer are still the preferred host for Deer Ticks, they will still be opportunistic in winter.

Leaf piles and underbrush are common hangouts for ticks - you can still get bitten while hiking during winter. Stay on trail.

Chances of being bitten in winter are lower than being bitten in summer months but this risk increases every year as winters get warmer.

How To Prevent Winter Tick Bites:
Make sure to clean up all leaves before winter. Ticks use leaf piles to protect themselves.

Wear long sleeves and pants when outside.

Check pets for ticks before bringing them into the house. Using a tweezer is an easy way to remove ticks that are clinging to your pets

Check yourself for ticks after being outside. Using a lint roller is an easy way to catch ticks that may be clinging to your clothing.

Have local lawn care company treat your yard for ticks during warmer seasons to control tick populations.
Although the temperature in winter months reduces the likeness of being bitten by a tick, they are still out there and can be very harmful. Make your yard more enjoyable for your family by calling your local trusted tick control company. Be sure to stay on top of the easy-at-home preventative actions to keep your pets and family as safe as possible as well.
Related Articles from Green Meadow:
---
Since 2007, Green Meadow Lawn Care has provided homeowners throughout the greater Tolland, Connecticut area with premium fertilization programs, tick control, mosquito management, seeding & aeration and tree & shrub care.
Visit our Learning Center to find out more about how our services can help you or visit our Youtube Channel to view more in our Learning Center Series.
To speak to our Customer Service Manager, please call Dave (view Dave's video bio here) with any questions. Dave has been in the industry for 30 years and is always happy to help with his expert advice.
860-870-5700